Discover more from Creature//Creative
Creative musings on the arts, seasons, and self-reflection, as well as updates on new and ongoing projects.
FREE PECANS! a newsletter for squirrels
November '23 newsletter
Friends,
My monthly newsletter is always written in bits and pieces. I keep a draft all month long, adding a thought here and there until some sort of theme emerges organically. Then, I sift through everything I have and start weaving the story that wants to be told.
When the theme for this month finally struck, it was while I was staring out the window at work, taking hurried little notes on a bit of scrap paper. Simple observations that felt like I finally hit the nail on the head.
As I watched the trees change colors and lose their leaves, bit by bit, it occurred to me that, as much as I have always adored autumn, perhaps I have been thinking about it all wrong. Perhaps the trees are not "losing" their leaves. And maybe winter is not ripping them away either.
"Dormancy" certainly isn't a violent or sorrowful term, rather, I interpret it as a moment of rest.
I mentioned the hustle and bustle of squirrel-kind in my last newsletter and pondered on the feelings of busyness in the air around me. It felt right and, honestly, it was just the frame of mind I was in to say that high project volume felt good right now. Because certainly, even the squirrels rush to put everything in order before the first frost.
Recently, however, I have spent time watching the squirrels a bit closer and decided I didn't get what they had going on at all.
They scurry about with mouths stuffed full of one, two, or even three pecans - perhaps too many pecans - and I am reminded that as the trees find rest, the animals must prepare for the scarcity of their coming hibernation. This busyness is more a survival technique - a biological necessity - rather than a cute metaphor for our human bubble world (capitalism or whatever).
Still, it's difficult not to get lost in creating meaning and connection between our lives and the little lives we constantly ignore around us.
So I think of the squirrel. I watch the squirrel.
I wonder if the squirrel has access to an EAP or if he gets PTO for mental health days…
Has the squirrel been to therapy to talk about why he can't stop working so hard?
The squirrel should probably start a union.
I have to poke fun at myself for thinking too hard sometimes.
While I enjoy a plunge down the rabbit hole (err, squirrel hole?) following my bushy-tailed friends to some sort of revelation about the seasons, my community, or my work ethic, this month I realized:
The squirrels are just literally collecting nuts.
And it's really okay to just leave it at that.
But too often, I think I probably overcomplicate things. Maybe it's okay that I don't squeeze all the details and metaphors out of something. That I don't sync my workflow to the seasons, or my menstrual flow to the moon cycles, or my newsletters to each month they are posted in. It's okay to let the squirrels be squirrels because thinking too hard about them might be a coping mechanism for stories about my life I am not willing to let go of for one reason or another.
(Honestly, the squirrel that told me that last part was likely just regurgitating things he heard from his weekly support group, but hey - free advice is free advice.)
I do feel that I gain quite a lot from navigating the world by the very imaginative brain I was given. Metaphors can resonate so deeply with us that they change the way we operate within ourselves and as part of the outside world. The feedback I receive each month from so many of you tells me that. Reality and metaphor. Observation and myth-making. Mundane or magic?
We need it all, I think.
The balancing act between being reasonable and so deliciously unreasonable and whimsical about our lives is a space of deep joy for me.
Is the nut a nut and the squirrel a squirrel or are they both larger-than-life entities - sages pointing us on a path to true understanding?
I am thinking of calling this Schroedinger's Nut (or something a bit more tasteful, no pun intended. I know, it just keeps getting worse).
Hopefully, it's becoming painfully clear what's going on here, but this squirrel thing is just a really long bit - a caricature of how I write these newsletters at times.
When I reflected on my month's worth of notes for this newsletter, the only thing that was clear was that I needed to let go of ideas I had about how I present myself in these newsletters and the kind of information I think is "worthy" to be part of this.
Didn't this newsletter start as a way to just reflect and muse on things?
And while things can and must evolve and change over time, perhaps some things are better off returning to their simpler forms. A squirrel can be a squirrel. A nut can be a nut. A reflection on my month can just be a rundown of what I did.
I did, however, have a lot of fun this month, letting go of things like the trees losing their leaves. Working on stuff a little too hard, like the squirrels and their nuts. And taking it all a bit too seriously at times, as I am known to do.
My experiences - from handling bugs I was terrified of for the first time, to turning 28 and realizing I don't have to carry 27 years' worth of trauma with me this far - have shed light on some of the stories we tell ourselves. Whether it be the story of how we got where we are and how our past shapes us or the story of where we should be going or what we want others to witness in us, sometimes it's just time to let it go. Or just let it be simple. As written. Next page.
---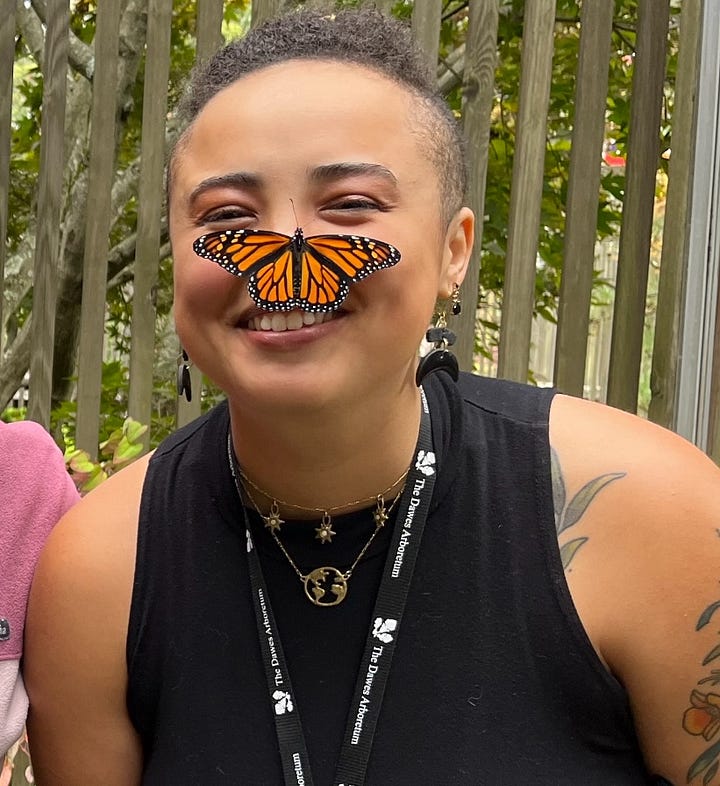 Although this newsletter is mostly for the squirrels, I did wanna just share one fun thing that happened this past month - I finally got over my fear of butterflies! (Working at an arboretum is doing wonders for my entomophobia - exposure therapy works, kids!)
We had monarchs for tagging and release this fall and I spent a month and a half (ish) watching these babies grow and eventually take flight.
With this last batch, I finally decided I didn't want to miss out and have to wait another year to get up close and personal. And BOY do they get up close!
So…basically I am going to start raising butterflies and moths in my spare time now. We'll see how that goes. :)
Thanks for playing along with me <3
*And read below for project updates and Substack info if you could! Or I am going to start putting these updates at the top! 🙃
xoxo,
Lash
---
Updates
Tales From Niveen
You may have noticed some notifications for TFN chapters here and there. You may have also noticed that those chapters have disappeared.
I had to restart the process to adjust a couple of things:
TFN chapters are now free. Extras will still be behind a paywall, but I just want folks to be able to enjoy this story.

New chapters will send you a notification when they are published. I know there's a lot of content to keep track of between podcasts, newsletters, and chapters. If this becomes a nuisance in your inbox, I can change the notification process, but I won't know unless you tell me. So pls do.

Posts go out Tuesdays and Thursdays at 7pm starting 11/2.
---
Extraplanar Radio Show
Episode 6 of Extraplanar Radio Show is out now and we're on a road trip to visit my mother! (and destroy my archnemesis, Jerry)
Listen to the most boring camping story you've ever heard (it probably would have been more interesting if I had been invited, but whatever).
This episode also features the lovely
so make sure to go give her some love!
Some listening platforms are delayed on their update since RSS feed distribution has changed. If your platform isn't updated, feel free to click the link below!
---
Restless Ghosts
I am excited to announce a brand-new storytelling project called Restless Ghosts.
Welcome to Grimwood Hollow, a sleepy, small town where nothing much has happened for quite a long time.
Recently, however, something stirs within the gates of Grimwood's oldest cemetery, the Silent Pines Eternal Resting Grounds.
Here, tombstones creak and groan. Pale hungry figures roam just beyond the corners of one's eyes. And a cold spell has brought a chilled mist to permanently settle over the town.
Perhaps the residents of Grimwood don't pay the dearly departed as much mind as they should. Or, perhaps the land of the living has simply been too busy to notice the stirring of the dead.
Restless Ghosts is soon to be on all your favorite listening platforms. Stay tuned for the upcoming debut later this month!
---
The Mixtape has been updated! This month features an eclectic mix of folk, jazz, and R&B.
Is anyone listening to the new Hozier album? I know it came out in August, but I haven't had a chance to sit down and really listen to it til last week. I've completely lost my mind over it though - I feel like I'm pickling in a bog somewhere and I love it.
Remember, this playlist will change on the first of every month and includes 30 songs I've got on repeat when I'm trying to make art/get into my flow state. Save it, download it, enjoy it! (Previous month archives coming soon by request)
---
Thanks for reading Creature//Creative! If you aren't already on the list, please subscribe to receive new posts and support my work.